Busiess Card Magnet Calendars, Magnetic Calendar
MultiPurpose Business Card Magnet Calendar


Magnet features adhesive to apply your business card to personalize.
Each calendar has a printed backer featuring next year calendar on one
side and a convenient kitchen measure backer on the other side.

Features:
- Full Color Coated Card Cover.
- 14 month Calendar November to December.
- USA, Canadian & Jewish Holidays.
- Easy Peel Magnet with No Punch Out.
- Calendar Mails for 1 oz. rate.
- Printed backer featuring kitchen measurement
- Inside Backer 2018 Calendar
- Calendar has area for use as memo pad, scheduling etc.
- Thank You reorder page in full color makes reordering easy.
- Imprinted envelopes included FREE with calendar.
- Ships in 5 business days.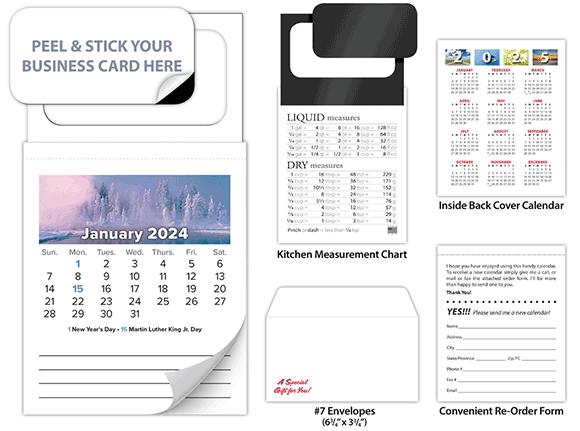 Mini Calendars, Mini Calendar


Inside Pages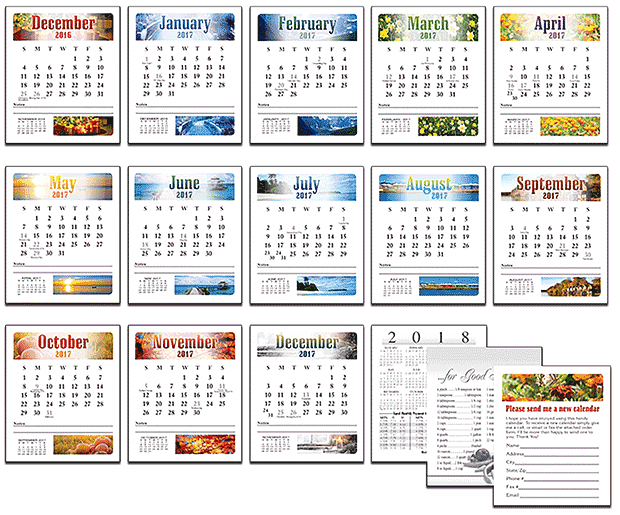 Sticky Calendar Magnet
FRONT COVERS


Order front covers in increments of 100

Mix and Match Front Covers Example:
Cover: MPC-178 = 200 quantity
Cover: MPC--185 = 200 quantity
Cover: MPC-187 = 100 quantity
Total Calendars = 500 Calendars

MPC-807

MPC-805

MPC-809

MPC-188

MPC-825

MPC-186

MPC-834